I've made it through my first week of teaching since my op - and survived! Fridays are particularly full on teaching days, as I do 11am - 4 pm without a break. I finally got out of the building at 5 o'clock, and the traffic was light for rush hour, so I was home at dusk (great that the days are finally getting perceptibly longer).
Su is still poring over her laptop in her "Su's Tours" role - at the moment, Florence is winning out over Lesbos for the Summer, and it looks as though France has slipped down the rankings in the potential holiday stakes. Keep on watching this space.
No photos taken today, so here's one from when it was colder than it even is today...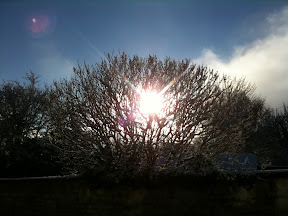 - Posted using BlogPress from Marcus' iPad